Ruff Sqwad – White Label Classics
In the early to mid 2000s, before grime became a household name, before number 1 singles and international shows, a group of teenage producers, MCs and DJs from Bow – mostly school-friends – created a sound, and a name for themselves, that will stand the test of time. Whittled down from over 50 legendary instrumentals to 22, "these are the anthems, the tunes people remember us by. The ones people have been asking for ever since."
The CD also features a 16 page booklet with classic photos and an interview with main producers Dirty Danger and Rapid, by Hancox.
CD package/digital art direction from Insert's very own Sketch From Scratch
White Label Classics will be released on December 10. You can now pre-order your CD via the No Hats No Hoods .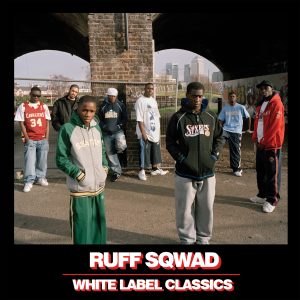 Tracklist:
'Anna'
'Misty Cold'
'Lethal Injection'
'Pied Piper'
'Functions on the Low'
'Together'
'Your Love Feels'
'Tings in Boots'
'Down'
'Move 2 Dis'
'Knight Rider'
'An Ting'
'Underground'
'Burial'
'Top 3 Selected'
'Cheque'
'Clio'
'Xtra'
'Good Old Days'
'I'm From a Place'
'Lonely People' (CD ONLY) / 'No Bass' (DIGITAL ONLY)
'Died in Your Arms' (CD ONLY) / 'Cleo Remix' (DIGITAL ONLY)